Atlantic Clipper
CLOSE
View More Thumbnails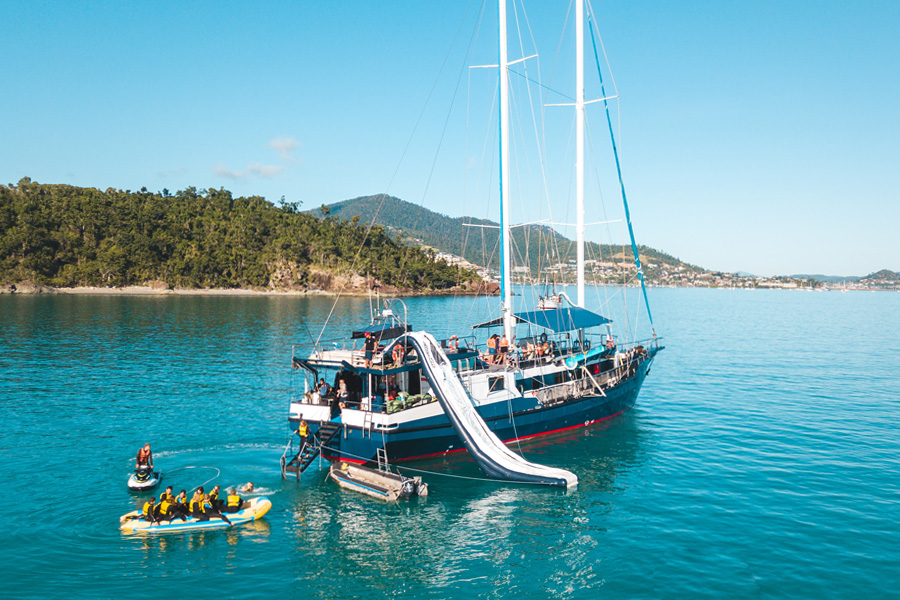 Loading...
Departure Times
Departs: 11:45am - 2:15pm - Tue, Thu & Sat
Returns: 12:00pm - Thu, Sat & Mon
Pricing Options
$499 AUD per Person
- Shared Accom
(Between: 01 Oct 2019 and 05 Nov 2019)
$549 AUD per person
- Private Twin Cabin (Requires 2 People) ($1098 Total)
(Between: 16 Sep 2019 and 31 Mar 2020)
$549 AUD per person
- Private Double Cabin (Requires 2 People) ($1098 Total)
(Between: 16 Sep 2019 and 31 Mar 2020)
Atlantic Clipper puts the FUN in your holiday!
Onboard spa, water slide and snorkelling and diving? That's right, 140ft Atlantic Clipper has all this and more! This is an exciting, fast trip for the fun-loving traveller aged between 18-30, who enjoys gathering in a group, plenty of socialising and loads of adventure. Atlantic Clipper features all-modern facilities and airconditioning onboard, as well as exciting sailing and a diving option. You won't know what to try first! Dive into this fun!
Atlantic Clipper's 2 day and 2 night trip is for the socialite at heart with a sense of adventure. As the largest boat in the Whitsundays, this mega yacht will give you the ride of your life. Your days will feature a combination of fun sailing and exploring the Whitsunday islands and Whitehaven Beach as you snorkel and dive through the gorgeous reef coral formations and exotic marine life. There's even more adventure at night, with dancing, great music and entertainment. Atlantic Clipper features the best facilities onboard for diving, the huge spa and the brand new 3-storey high waterslide! No experience required for diving but subject to medical conditions.
*Diving is temporarily suspended on New Horizon. We are currently waiting to confirm return dates with the operators. Thank you for your patience.
Atlantic Clipper features:
Waterslide - 3 storeys high!
Huge spa and plenty of space for sun-tanning
A great group of guests onboard
Night entertainment
Option to purchase scuba dives
Great meals made by the crew
Air-conditioning and hot and cold showers
Snorkelling gear and wetsuit hire included
BYO Alcohol
All you need is a sense of adventure!
YOUR BOAT LAYOUT
This mega yacht has it all and more, but you have to see it to believe it. Imagine a huge saloon equipped with a television, a large dining area, lounge and cocktail bar! There's also plenty of room on deck as well as the spa or take the plunge on the giant waterslide. Accommodation wise, choose from private doubles, triple share and quad share cabins all with air-conditioning.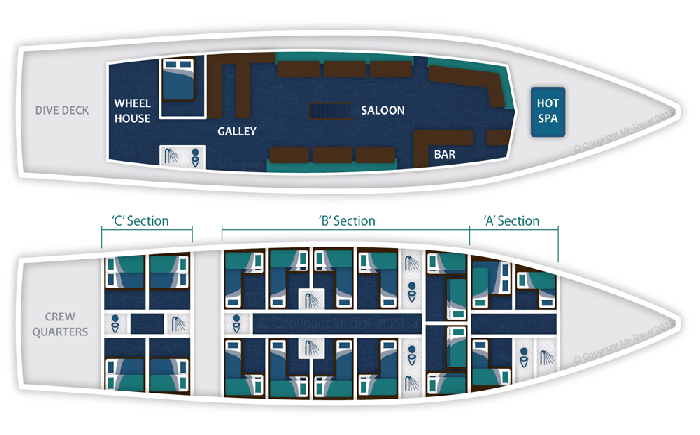 Why is Atlantic Clipper is so popular with the young crowd?
Atlantic Clipper is the Whitsundays best choice for the savvy traveller who wants an adventure that is clean & comfortable, fast & fun, with time to socialise and have a laugh. Perfect for 18-30s! Cruise around and see Whitehaven Beach, do a Scuba dive and chat with some like minded travellers after an exciting day on the spectacular Great Barrier Reef. It has everything you need on board. Sleep on board overnight, with 21 private cabins with 2, 3 or 4 people in each. The most popular feature is the awesome outdoor spa bath. imagine cruising past the Islands lazing in an open spa! Clipper also has a spacious saloon, sun tanning deck and it's fully air conditioned.The sheer size of Clipper gives you heaps of space and common areas so if you want to relax on your own, socialize with some new friends or hangout with the friendly crew you can.
Atlantic Clipper was built in the UK in the early 80s and initially ran between the Caribbean and England. She came to Australia and was completely overhauled and made into a passenger vessel that would do blue water runs from Melbourne to Perth to Singapore and onto England so being originally built for long distance trips, she was designed with space in mind. Eventually she has made her way here to the Whitsundays and is now very happily cruising around one of the best sailing grounds in the world!
Atlantic Clipper cruises at a comfortable speed to get you to as many destinations as possible. When the winds are light, she uses its enormous engine to cruise at about 9 knots. One of the highlights of the trip is visiting the pristine Whitehaven beach, weather permitting, and our customers rave about Whitehaven Beach being a highlight of their trip to Australia.
A fully crewed diving team know all the best spots to scope out the best wildlife so you can scuba dive, snorkel or just swim at some amazing locations on the Great Barrier Reef Marine Park. One of the usual stops is at Luncheon Bay, a perfect place for a first scuba dive with its beach entry. Also they often stop at Langford Island for more snorkelling and diving which is also a great place to watch a beach sunset. Atlantic Clipper will generally have two dive instructors aboard, own compressor and two 6 metre tenders can transport passengers quickly to great beach and dive locations.
Life aboard Atlantic Clipper is as active or relaxed as you like. Help the crew on board to hoist the sails or sit back in the on deck spa and have a beer or two and watch the sunset. What better way to spend a holiday!
COMING SOON... 'THE BLOB'!
Described as an 8 meter inflatable adrenalin rush one person stands one end of the inflatable tube whilst another jumps from the 4 meter high deck of the Atlantic Clipper onto the other end, this sends the passenger sling shotting into the air on a high octane ride with some serious air time!!


SAMPLE MENU
Day One
Lunch: Selection of cold meats, salads, homemade pesto pasta salad, Tuna and sweet corn salad, a selection of cheeses and crackers and fresh baked crusty rolls and wraps
Dinner: Oven baked fish served with herb and lemon dressing on a bed of creamy mashed potatoes, along side homemade crunchy coleslaw and fresh Aussie Damper and rolls
Snacks: Aussie Hot Dogs with cheddar cheese and onions as well as chips, dips and cheeses
Day Two
Breakfast: Tea and coffee, a selection of breads, spreads such as honey, jam marmalade, Vegemite and peanut butter. Tropical fresh fruit platters as well as toasted muesli and cornflakes
Lunch: Selection of cold meats, salads, homemade pesto pasta salad, Tuna and sweet corn salad, a selection of cheeses and crackers and fresh rolls and wraps
Dinner: Papa Steves famous Spaghetti Bolognaise, cheese and a salad with garlic bread
Snacks: Aussie Hot Dogs with cheddar cheese and onions as well as Chips, dips and cheeses
Please this is a sample of menu and is subject to change and amendments

BOOK WITH US TODAY! CALL 1800 550 751 OR (07) 4914 2425 IF LOCAL
What To Bring
Please only bring a small soft overnight bag without any zippers (ie. a re-usable shopping). A zipless souvenir bag can be purchased at the boat's check-in office for a few dollars. Ensure you pack clothes, a hat, swim-wear, towel, sunscreen 30+, warm pullover for the evenings (seasonal) and cash/card for onboard purchases. Feel free to bring on board a reusable water bottle and/or additional snacks. You will also need to bring your own alcoholic beverages, available for purchase in town. No glass bottles, please.
Excess luggage can be stored at several places in town including most boat check-in offices, most hostels, or at your accommodation. Most charge between $5-10pp for the duration of your trip.
What's Included
Skipper
Crew
Drinking water
Meals
Linen
Wetsuit hire and snorkelling equipment
Marine Park fees
What's Extra
*Please note Atlantic Clipper departs between 11:45pm & 2:15pm depending on the tide.
BYO alcohol (no glass) and scuba diving. Soft drinks are available for purchase on board.
Atlantic Clipper offers onboard scuba diving for both certified divers and those without experience/qualification. Scuba dives MUST be pre-booked, but are paid for on board.
Scuba dive is $65pp - MUST be pre-booked.
Jet boat rides and banana boat rides can also be purchased. These optional extras can be decided on and paid for on board.
Jet boat ride is $35pp
Banana boat ride is $20pp
Your safety in the water is our primary concern. To ensure your comfort and safety divers must be 18 years or over and they will require that you have a Divers Medical Certificate for certain medical conditions.
Please read the following questions carefully:
Do you currently have an ear infection?
Do you have a history of ear disease, hearing loss or problems with balance?
Do you have a history of ear or sinus surgery?
Are you currently suffering from a cold, congestion, sinusitis or bronchitis?
Do you have a history of respiratory problems, severe attack of hayfever or allergies, or lung disease?
Have you had a collapsed lung (pneumothorax) or history of chest surgery?
Do you have active asthma or history of asthma, emphysema or tuberculosis?
Are you currently taking medication that carries a warning about any impairment of your physical or mental abilities?
Do you have behavioural health problems or a nervous system disorder?
Are you or could you be pregnant?
Do you have a history of colostomy?
Do you have a history of heart disease or heart attack, heart surgery or blood vessel surgery?
Do you have a history of high blood pressure, angina, or take medication to control blood pressure?
Are you over 45 and have a family history of heart attack or stroke?
Do you have a history of bleeding or other blood disorders?
Do you have a history of diabetes?
Do you have a history of seizures, blackouts or fainting, convulsions or epilepsy or take medications to prevent them?
Do you have a history of back, arm or leg problems following an injury, fracture or surgery?
Do you have a history of fear of closed or open spaces or panic attacks (claustrophobia or agoraphobia)?
If any of these conditions apply to you, you will require a Divers Medical Certificate before you can scuba dive.
A Divers Medical Certificate can be obtained from:
Whitsunday Doctors Service
257 Shute Harbour Rd (Opposite xBase)
Airlie Beach
Ph: 07 4946 6241
Terms and Conditions
*A $40 per person Public Holiday Surcharge is applicable to tours where the vessel is at sea on Christmas Day or New Years Day.
All departures and itineraries are subject to weather. Tours may be changed or cancelled for any reason at the discretion of the Tour Operator. It should be noted that adventure travel involves risk. Whilst we make every effort to safeguard clients, we cannot be responsible for personal injury or loss due to the actions of our clients which are beyond our control. We recommend that all clients have travel insurance covering illness, injury, loss or damage to personal belongings and not being able to travel on the confirmed date of departure. Please be aware operators pass on credit card merchant fees so there is a non-refundable 2.5% surcharge for VISA and MASTERCARD card purchases.
This is a water-based activity, for safety reasons ALL passengers must be able to swim and speak fluent English. Please advise us before booking if any passengers are under 18 years old to ensure this is the appropriate trip.
Also, please note that you need to allow time prior to the boats' departure to check in, please ask us for more details.
Cancellations
All cancellations will incur a 25% cancellation fee. Cancellations made within 60-30 days of travel will result in a 50% cancellation fee. Cancellations made within 30 days of travel will result in a 100% cancellation fee. A $40 per person transfer fee applies to ALL name or date changes. If the sailing company has to cancel the trip (prior to the boat's departure) and we cannot offer a suitable alternative, then a refund will be given minus card fees. We strongly recommend that you have travel insurance, especially during the wet season if you are delayed or cannot travel.
Please note it is the responsibility of ALL passengers travelling to advise both your travel agent at the time of booking and vessel check-in agent before boarding of ANY medical conditions including food allergies you may suffer from.
Thank you for booking with Mr Travel/Sailing Whitsundays. If you would like any advice or assistance in arranging accommodation, transfers or additional tours, please do not hesitate to contact us.