Kiana
CLOSE
View More Thumbnails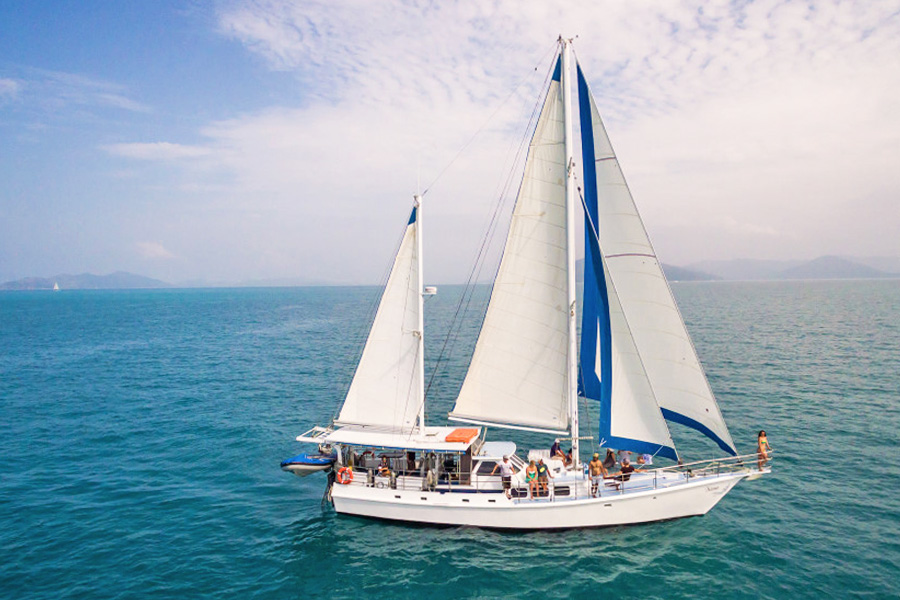 Loading...
Departure Times
Departs: 8:00am - Monday & Friday
Returns: 4:00pm - Wednesday & Sunday
Pricing Options
$729 AUD per Person
- Shared Single Accommodation
(Between: 01 Apr 2018 and 01 Apr 2021)
$729 AUD per person
- Shared Double Accommodation ($1458 Total)
(Between: 01 Apr 2019 and 01 Apr 2021)
$879 AUD per person
- Private Double Cabin (max 2 people) ($1758 Total)
(Between: 01 Apr 2019 and 01 Apr 2021)
$879 AUD per person
- Private Twin Cabin (max 2 people) ($1758 Total)
(Between: 01 Apr 2019 and 01 Apr 2021)
Kiana provides the ultimate sailing oasis!
Ideal for snorkelling, diving or just relaxing, Kiana is a favourite for many reasons. Featuring plenty of space for comfort and very few passengers, you are certain have the ideal 3 day/ 2 night sailing trip which features sailing, sightseeing and the chance to scuba dive the Outer Great Barrier Reef.
Kiana will take you on a magical 3 day/ 2 night adventure, stopping in at the top destinations along the way. With just 14 guests onboard, you can really enjoy the personalised snorkelling and diving opportunities at the Whitsunday islands and the Great Barrier Reef, whether you are experienced or a first time diver. Back on deck, Kiana provides plenty of treats including the comfort of airconditioning, large saloon areas and cosy cabins (including private twin cabins). Kiana let's you do it all!
Kiana Features:
Maximum 14 passengers for a personalised experience
Fresh meals prepared
Highly training crew
Tea and coffee
Plenty of comfort in the roomy airconditioned interior
Private twin cabins available
Large bathrooms with hot showers
Large shaded aft deck
Fully equipped water equipment including dive compressor
A clothes dryer
Don't miss out on this chance to see the Whitsunday Islands and the Outer Great Barrier Reef, book today...
BOAT LAYOUT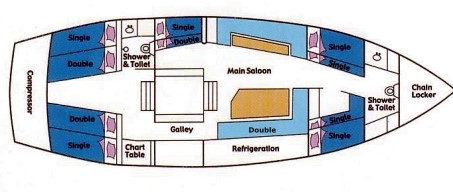 Kiana's upper decks are very spacious and provide permanently shaded areas for your protection. Below decks, the saloon is fully air-conditioned and fitted with timber lined cabins to add to the luxurious feel of this magnificently appointed sailing vessel. Kiana offers 4 different accommodation styles. Choose from...
Shared Cabin Single
Shared Cabin Double
Private Cabin Twin
Private Cabin Double
Please this is a sample of menu and is subject to change and amendments
SAMPLE ITINERARY
Traveling on board Kiana, you will get to enjoy the best of both worlds! You will have the chance to explore the Whitsunday Islands through activities such as sailing, snorkelling, diving, and bush-walking, visiting the icons of the Whitsundays such as Whitehaven Beach, as well as a cruise to the Outer Barrier Reef, some 2-3 hours beyond the islands.
Diving is definitely a main focus on board and our crew will ensure that even first time divers feel safe and are able to enjoy the splendor of our magnificent coral reefs. The crew love to dive so much they want everyone to try scuba diving by offering the 1st scuba dive FREE! This will allow you to relax with the equipment, feel comfortable under water if it is the first time, and of course improve your abilities for future diving. The crew on board are all fully qualified Dive Instructors and Divemasters. All the dive equipment is new and the boat also includes its own diving compressors. Please note that scuba diving is subject to age, medical questionnaire and conditions
SAMPLE MENU
Day One
Morning Tea: Tea, Coffee and Fruit cake
Lunch: Cold meat platter served with freshly prepared tossed salad,
coleslaw, potato salad and fresh bread Rolls
Afternoon Tea: Fruit Platter
Pre-dinner snacks: Olives, cheese, corn chips, salsa, peanuts, chips and a selection on dips
Dinner: Export quality lamb & fresh vegetables (Marine Hangi)
Day Two
Breakfast: A selection on Cereals, Fruit platter & Toast
Morning Tea: Lamingtons served with Tea & Coffee
Lunch: Satay Chicken and Rice served with freshly prepared
Tossed salad, Waldorf salad and Vegetable salad
Afternoon Tea: Choc Chip Cookies served with Tea & Coffee
Pre dinner Snacks: Water Crackers, Pate, Savoury biscuits, cheese, kabana,
gherkins, carrot & celery sticks with a selection of dips
Dinner: Spaghetti Bolognaise served with Garlic Bread.
Our Bolognaise is prepared from scratch by our chef using premium ground beef and fresh ingredients
Dessert: Mango and Apple Crepes served with freshly whipped cream
Day Three
Breakfast: A selection on Cereals, Fruit platter & Toast
Morning Tea: Swiss Rolls served with Tea & Coffee
Lunch: Cold Meat platter served with Salad, Vege bake, Pasta salad and Fresh Rolls
Please note this is a sample menu and is subject to change and amendments.
BOOK WITH US TODAY! CALL 1800 550 751 OR (07) 4914 2425 IF LOCAL
What To Bring
Upon checking in, Whitsunday Sailing Adventures will provide you with a souvenir environmental bag to pack your belongings in for the sailing trip. They ask that you only take these bags on board with you as luggage. Ensure you pack clothes, a hat, swim-wear, beach towel, shower towel, sunscreen 30+, warm pullover for the evenings (seasonal) and cash for onboard purchases. Please note this vessel has cash only.
Kiana is fully licensed vessel, so all alcohol is to be purchased from the licensed bar on board - NO BYO allowed on board.
Excess luggage can be stored at several places in town including most boat check-in offices, a 24-hour locker shop on The Esplanade, most hostels, or at your accommodation. Most charge between $5-10pp for the duration of your trip.
What's Included
Skipper
Crew
Drinking water
Meals
Linen
Wetsuit hire
Snorkelling equipment
All Marine Park fees
One FREE Scuba Dive
PLEASE NOTE: You are provided with a soft carry on bag for your trip, however, guests are able to bring their own soft bag without zippers. The vessel will not allow guests to bring their luggage on board.
What's Extra
Any alcohol you wish to purchase on board (Beer $5, Wine $6, Champagne $25, bottled water or soft drinks $3). Please note these prices are subject to change and are a guide only
All passengers must be able to clearly understand safety directions and instructions given in English by the crew and be able to complete the required safety forms in English
All passengers must acknowledge that they are able to swim in deep water without a flotation device unassisted for 1 minute
All passengers must be able to climb a 1.5 metre high ladder unassisted
Scuba diving is an additional cost after first FREE dive - all diving can be decided on and paid for on board. Please note dives are subject to age, weather, other conditions and the dive instructors discretion. High quality above and underwater photo DVD available for $35 each.
Kiana dive prices:
1st dive is FREE
2nd dive is $80
3rd dive is $70
4th dive is $50
Your safety in the water is our primary concern. To ensure your comfort and safety divers must be 18 years or over (if 12 years or older may be able to dive with parents consent) and they may require that you have a Divers Medical Certificate for certain medical conditions and also if you are over 45 years old and not certified for diving.
Please read the following questions carefully:
Do you currently have an ear infection?
Do you have a history of ear disease, hearing loss or problems with balance?
Do you have a history of ear or sinus surgery?
Are you currently suffering from a cold, congestion, sinusitis or bronchitis?
Do you have a history of respiratory problems, severe attack of hayfever or allergies, or lung disease?
Have you had a collapsed lung (pneumothorax) or history of chest surgery?
Do you have active asthma or history of asthma, emphysema or tuberculosis?
Are you currently taking medication that carries a warning about any impairment of your physical or mental abilities?
Do you have behavioural health problems or a nervous system disorder?
Are you or could you be pregnant?
Do you have a history of colostomy?
Do you have a history of heart disease or heart attack, heart surgery or blood vessel surgery?
Do you have a history of high blood pressure, angina, or take medication to control blood pressure?
Are you over 45 and have a family history of heart attack or stroke?
Do you have a history of bleeding or other blood disorders?
Do you have a history of diabetes?
Do you have a history of seizures, blackouts or fainting, convulsions or epilepsy or take medications to prevent them?
Do you have a history of back, arm or leg problems following an injury, fracture or surgery?
Do you have a history of fear of closed or open spaces or panic attacks (claustrophobia or agoraphobia)?
If any of these conditions apply to you, you will require a Divers Medical Certificate before you can scuba dive.
A Divers Medical Certificate can be obtained from:
Whitsunday Doctors Service
257 Shute Harbour Rd (Opposite xBase)
Airlie Beach
Ph: 07 4946 6241
Terms and Conditions
Scuba diving is optional and dive fees are payable onboard (age and medical status dependent). To enable us to meet our duty of care and establish an acceptable level of risk, EACH passenger must have a clear understanding of safety directions and instructions given in English by the crew and be able to complete the required safety forms in English. A passenger is only able to participate in water activities if they have a level of swimming experience. If a passenger is unable to swim they will still be able to participate in the sailing trip, but will not but able to participate in water activities such as snorkelling. In order to meet our minimum safety standards, passengers must be able to exit the vessel unassisted in the unlikely case of an emergency.
All departures and itineraries are subject to weather. Tours may be changed or cancelled for any reason at the discretion of the Tour Operator It should be noted that adventure travel involves risk. Whilst we make every effort to safeguard clients, we cannot be responsible for personal injury or loss due to the actions of our clients which are beyond our control. We recommend that all clients have travel insurance covering illness, injury, loss or damage to personal belongings and not being able to travel on the confirmed date of departure.
Please note that in the unlikely event of your trip being cancelled or stood down, all guest communication is required to go through our Online Store via telephone or email. While there is a Sailing Whitsundays retail outlet located Airlie Beach, please be aware that they operate as a separate entity and are unable to access reservations made by the Mr Travel online department.
Please be aware operators pass on credit card merchant fees so there is a non-refundable 2.5% surcharge for VISA and MASTERCARD card purchases.
Please advise us before booking if any passengers are under 18 years old to ensure this is the appropriate trip. Also please note that you need to allow time prior to the boats' departure to check in, please ask us for more details
Cancellations
All client cancellations forfeit 25% of the total ticket price and all client cancellations made less than 30 days prior to departure will result in complete forfeiture of the full price of the sailing holiday. If the sailing company has to cancel the trip (prior to the boat's departure) and we cannot offer a suitable alternative, then a refund will be given minus card fees. We strongly recommend that you have travel insurance, especially during the wet season.
Please note it is the responsibility of ALL passengers travelling to advise both your travel agent at the time of booking and vessel check-in agent before boarding of ANY medical conditions including food allergies you may suffer from.
Thank you for booking with Mr Travel/Sailing Whitsundays. If you would like any advice or assistance in arranging accommodation, transfers or additional tours, please do not hesitate to contact us.